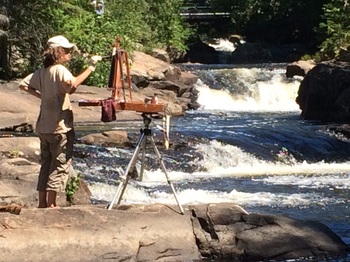 Artist's Biography

Irina Grobman is an award winning artist currently residing in Richmond Hill, ON. Irina came to Canada from Ukraine in 1999, fell in love with the country and is very happy to call it home ever since. She holds a BA from Chernivtsy State University in Ukraine, Diploma in International Business Management from Seneca College as well as a certificate in painting from George Brown College.

Irina believes that we should never stop learning and is always seeking to try new mediums, different techniques and subject matters through various workshops, talks and experiences. It's important to remember that we don't know everything and even what we do know is only a matter of opinion, hence we should always be open to change and respect others. That is the only way to grow and learn.

Irina Grobman is a member of Toronto Watercolor Society, Richmond Hill Group of Artists and Newmarket Group of Artists. She is proud to have been featured in a number of juried shows and having won multiple awards. Irina paints predominantly in oil, and her interests are in portraiture, landscapes and cityscapes. She also enjoys watercolors for the figure base works.

Message to the World:

"We are so busy with everyday tasks and so trapped in our own impression of the world that we fail to notice the beauty around, and I hope that my paintings will allow the viewer to see beauty of the everyday world. We don't need to travel to exotic places to experience the beauty, we only need to open our eyes and minds and be ready to see. "




---